Looking for an innovative way to increase traffic to your business and boost revenue? Of course – what business doesn't want an increase in traffic and revenue? Now, if only you could find a way to allow customers to explore your business online (from every perspective), too… hmmmmm.
Well folks, today is your lucky day. You are about to learn of an impressive innovation that forward-thinking marketers around the globe are using to achieve all of these goals – it's called Google Street View, using 360 photos.
What is Google Street View and How Does It Work?
Photographers, trained and certified by Google in order to ensure quality imagery and a high-standard of user experience, provide in-depth virtual tours of business locations, inclusive of both interior and exterior shots. After photographing a business from every possible angle, the photographer then stitches together high-resolution photos to make a 360-degree interactive, virtual tour. The result? Potential customers from anywhere in the world can see an exact representation of an entire location by simply moving an arrow around on their screen.
Google Street View, hosted by Google Maps, allows customers to get a clearer appreciation of the ambiance, decor, mood, and style of locations like restaurants, accommodation, dealerships, day care facilities, salons, physician offices, warehouses, or even concert halls.
The number of locations is endless. Buying decisions, then, are driven by participation in an immersive tour, rather than relying solely on written content, static photos, or customer reviews. Ultimately, Google Street View gives customers a clear expectation of what they will experience.
Four Ways Google Street View Can Help Your Business
1. Get discovered
Your virtual tour can be embedded to your webpages and social media outlets, and potential customers will be less likely to miss your site, because your panoramic photos will have four access points:
Organic Search
Google+
Google Maps
Pegman (your tour guide through Street View)
2. Attract more customers
Before visiting a business, 97% of people complete a Google search. Google Street View users will have a significant advantage over their competitors, because they provide an extra level of confidence to consumers by showing who they are before customers even walk through their doors. Images have a significant impact on buying behavior, so having a virtual tour will set you apart from your competitors by providing an informative and entertaining element to the decision-making process.
3. Convert more customers
Studies have shown that businesses who use Google Street View will see 45% growth in their in-store traffic. Additionally, a NYC Restaurant Week Case Study reported that 84% of the 1300 participants surveyed found that Google Street View played a factor in their restaurant choice.
4. Drive engagement and receive more positive reviews
Increased interaction with your business through Google Street View will result in more reviews of your business. Since reviews can be both good or bad, having the ability to see what to expect before visiting a business makes customers less likely to feel disappointed or mislead. On the flip side, positive reviews come from customers who feel that their expectations were met and/or exceeded. So, if your customers already know what to expect before they walk through your doors, you're two steps ahead of the curve, not to mention the competition.
How Can Google Street View Help My Business?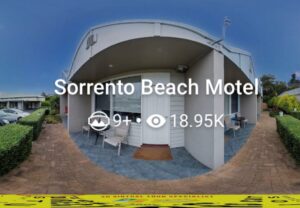 Google Street View is hosted on the largest and most used search engine on the internet. Why is that important? It's important because it means that your business will benefit from increased engagement and increased traffic because Google is HUGE. In addition to the hugeness of Google, anecdotal data suggests that there may be a correlation between the use of Google Street View and higher rankings in local search engines. This combination provides you with unprecedented marketing opportunities at a fraction of the cost of print ads or TV and radio spots.
Google Street View Tours start from as low as $99, and there are no other recurring fees (Yes, you read that correctly – NO RECURRING FEES)!
This means that your tour will be online indefinitely with a $0 cost per click and a $0 monthly fee. And, to top it off, these tours will be hosted on Google's servers at no charge – possibly for EVER!
Sorrento Beach Motel : Case Study
Click on either of the images to see the Google Street view on any device. The top photo shows what the Tour looks like on mobile & iPads, and the lower photo is a representation of what the tour looks like on desktop or laptop.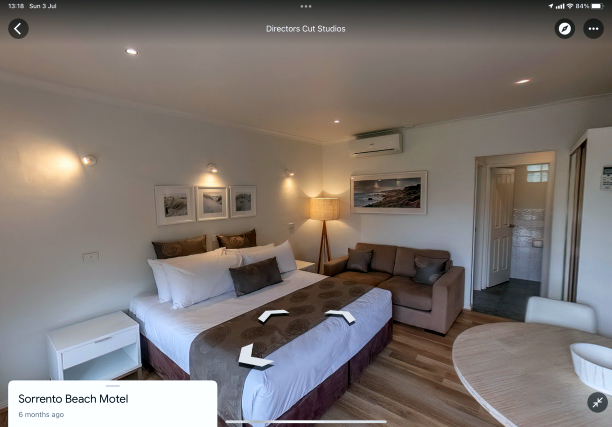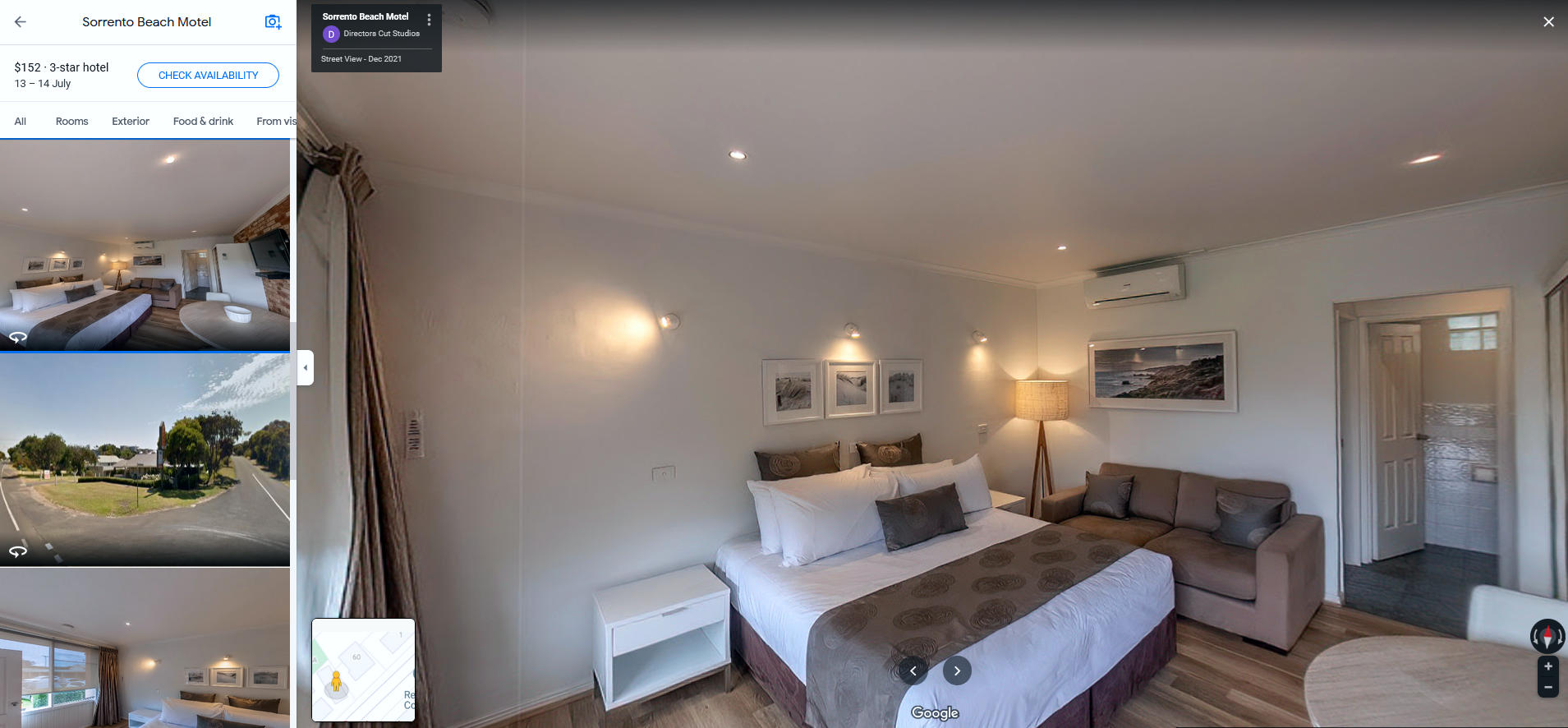 A Quick Breakdown: As of 03/07/22
Posted Online – 23/12/2021
Number of Views – 18,950
View Stats – 3,158 views per month which is over 100 views per day
This is hard proof that a Google Street View 360 Virtual Tour, even small ones like this, can bring a massive amount of views to your business in such a short time. All you have to do is make sure your online "Shop Window" is in tip top shape and looking great and up to date and you are onto a winner.
What do we mean by Shop Window?
Have over 250 reviews and all reviews have been responded to. These are your biggest fans. If they have gone to the trouble of giving you a review, the least you can do is thank them. There is also much evidence that answering Reviews increases your local SEO.
Have over 100 high quality, up to date photos. Research shows a strong link between Google Business Profile photo quality and search performance. So have professionally shot photos uploaded every season at least along with lesser quality guest photos.
Have your opening hours up to date, especially Holiday Hours, along with all your other data, website, email, phone number etc
How Do I Get Started?
Decide if your business will benefit from Google Street View (Here's a hint… it will).
Think about how you might make the best use of this product in order to showcase your business.
Locate a Google Certified Photographer in your area. That's us. Not only are we a Google Street View Trusted Photographer, are also very proud to be a Google Local Guide Level 7 with our tours & photography having over 10,000,000 views to date.
Embed Google Street View on your website and promote the hell out of this service to your viewers.
Sit back and reflect on how easy it was to completely turn around the quality of your digital presence with very little cost. You might also want to pat yourself on the back for being so savvy. Go ahead… you deserve it!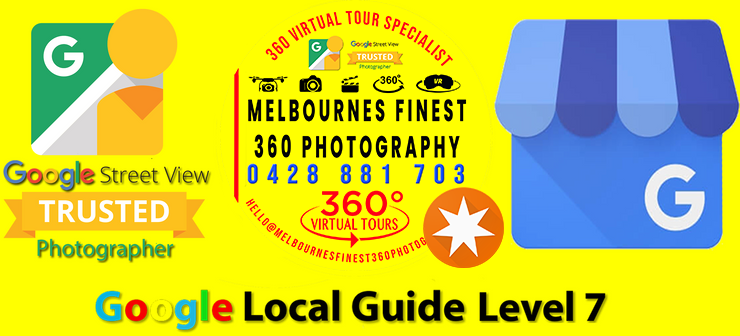 It goes without saying that people are looking for unique experiences when searching online. The more appealing your business is for these visitors, the more likely they are to become paying customers.
Using Google Street View will allow the potential for your future marketing success to become limitless!
So what are you waiting for? You have nothing to lose and so much to gain. Don't get left behind by your competition in the 360 Virtual Tour Revolution.
Also check out our other informative blog content by clicking the title below
Click the image below if on a mobile device to call us NOW for your FREE "Google Business Profile Booster Pack!"
Virtual Tours start from as little as $99. Click here to learn more