As a local business owner, it is in your best interest to take advantage of every opportunity you have available to reach customers. One such opportunity is to use Social Media that focus on local search and customer reviews to drive customers to your business organically.
When customers in your area are looking for the types of products and services you sell, the first place they go is the web. In fact, nearly half (46%) of all Google searches are seeking local information. This makes it crucial to focus on local SEO strategy; otherwise, you could be missing out on hundreds to thousands of customers on your own doorstep.
But what online business listing sites should you use, and will they help you appear in local searches? Two frequently used listing and review sites are Google & Facebook. While it's important to be listed on both sites, you should be aware of the pros and cons of each one so you can develop your local SEO strategy accordingly.
Pros & Cons of 2 Leading Business Directories
Google
If customers know nothing else about the internet, they know Google. After all, the search platform accounts for over 93% market share of mobile search engines. But what is Google like as a local small business directory?
Pros.
First off, Google is a well-known (and trusted) brand, as alluded to by the stat above. Everyone uses Google to find the information they need. Thus, listing your business on Google is critical. And the higher you appear in search results, the better.
You can set up a free business listing through Google Business Profile (GBP), the brand's business directory tool. The name of the game is visibility, and GBP plays the game well because it connects to Google's other important consumer-centric products, Google Search and Google Maps. Whether customers are looking for a business in their search bar or on the Maps app, you could easily appear in search results with a business listing on GBP.
With so much organic reach, Google can drive a lot of virtual and foot traffic to your business. GBP focuses on local SEO, so most searchers who find your business will be a short distance away—not to mention competition will be limited since searches are based on users' locations. Plus, local customers looking for your type of business in their area tend to be ready to buy. All these factors make it more likely that searchers will convert to actual customers.
Cons.
There are very few downsides to Google as a business directory, and even those aren't of any significance. For one, sometimes your business may not appear in user search results, even if your business is relevant to the search. For example, assume you own a beauty supply store and a user searches for "hair care products." Your store may not appear despite selling those types of products. The exact reasons for this discrepancy are unclear. However, anecdotal evidence suggests this issue is relatively uncommon.
Hot Tip.
No one knows exactly what fires the Google Algorithm and what factors rank highest with SEO. Run from any business that tell you they do. The best we can all do is implement best practices and guidelines set out by Google. What worked last month, might not work this month.
One thing we do know and what all the evidence points to is that the algorithm rewards activity. Feed the algorithm regular and watch your business grow! Just like the birds in my garden, the more food I put out, the more birds fly in.
So encourage customers to leave reviews & add photos. And don't ignore those reviews when they come in, good or bad. Answer every single one of them. This has been shown to have a positive impact on your rankings.
How To Receive High Quality Google Reviews Without Asking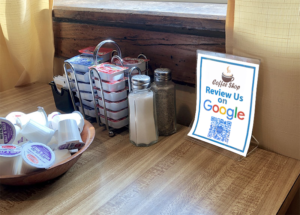 You need high quality reviews, but you are to embarrassed to ask right? Don't worry, we understand and we have your back. Give us a call on 0428 881 703 and we will send you a FREE QR Coded A5 Flyer (worth $49) linked to your GBP review section. Place this next to the till, at reception, on tables, on the walls, doors etc. You get the picture. Place them anywhere your customers will see it.

Facebook
In most circles, Facebook has just as much name recognition as Google, even among non-users. However, non-users are in short supply since Facebook boasts 2.74 billion monthly active users (up 12% year over year). How, then, does Facebook stack up as a business directory?
Pros.
Be where your customers are—it's an old business saying that's still true today. The stat above showcases that Facebook is a frequented platform and many of your customers are likely Facebook users. Creating a free Facebook Business page can help you reach them.
In addition, using Facebook as a business directory helps you reach customers and engage with them. Remember that Facebook is a social media platform, so it's designed for engagement. You can share posts, interact with people in post comments, and respond to direct messages—all actions that help further your relationship with prospects and customers.
Cons.
If you're hoping for lots of organic reach, Facebook isn't going to help much in this area. The platform's algorithms tend to limit how many people see your posts—unless you pay to change that. You can spend to boost a post, so more people see it. The question, then, is whether you have the budget to support such actions.
We mentioned engagement above—there's a downside to this typically positive action. Social media can sometimes inspire negativity more so than you'd find with in-person or phone conversations. If you're not careful, people could misinterpret your post comments and take offense. This could negatively impact their perception of your business and the perception of others who viewed the exchange.
Facebook Business Pages very rarely, if ever show up in local search results.
Hot Tip.
To get the most out of Facebook you must pay to Boost your posts.
Summary
The above information can help you prioritize your time and spend across the platforms. Just remember that you should give both sites attention because you never know which one customers will turn to for their needs. For example, even if you have great reviews on Google a bad review on Facebook could turn customers away.
What we have seen from working with local businesses is that many only focus on Facebook, and don't give their GBP a thought even though it is more effective and was actually harder to set up. Once they do start focusing on updating GBP regularly by responding  to reviews, while adding quality photography and a 360 Virtual Tours, they start to see their efforts rewarded.
Both are valuable marketing tools, but if we had to pick one, we would pick Google Business Profile every minute of every day of the week. At the end of the day its a Google product, and Google wants to see Google succeed.
Still Not Convinced?
Click the image below to see this very interesting video on from one of the industries top analysts at the UK's Ranking Academy where he puts both sides of the story forward with an indepth case study. Possibly the most profitable thing you will watch today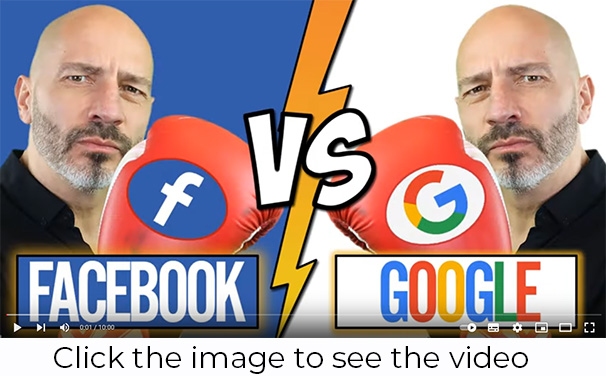 Also check out our other informative blog content by clicking the title below